Latest Construction Updates
Construction photos as of December 2022
The Plan: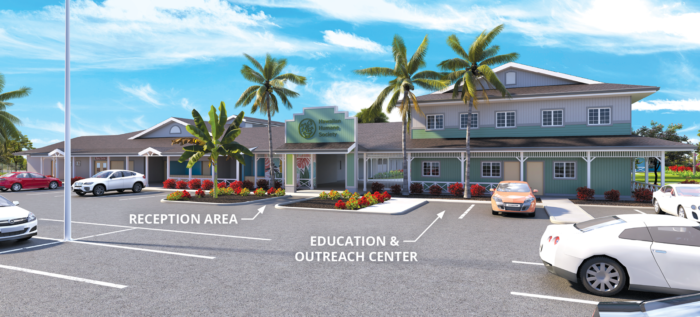 The Details:
The main 20,745 square feet (sf) two-story building on the northern portion of the project site is where administrative, programmatic, adoption and shelter veterinary services will take place. The first floor will contain the animal admissions receiving area, temporary holding rooms, examination rooms, treatment rooms, surgery rooms, recovery rooms, cat holding rooms for the separation of different feline populations (isolation space, medical care, young kittens, etc.), individual dog wards, dog holding runs, dog/cat kennels and an area dedicated to our foster program.
Shelter veterinary services will include a range of procedures including vaccinations, health examinations, implantation of microchips, dental procedures, minor to major surgical procedures and the spay or neuter of animals prior to adoption.
An adoptions lanai will be located on the first floor and consist of a sheltered, open-air space that contains adoption services, a help desk and a retail shop.
A classroom on this floor will be provided for educational programming, youth camps and field trips, orientation for new staff members and volunteers, public-animal related activities and staff meetings.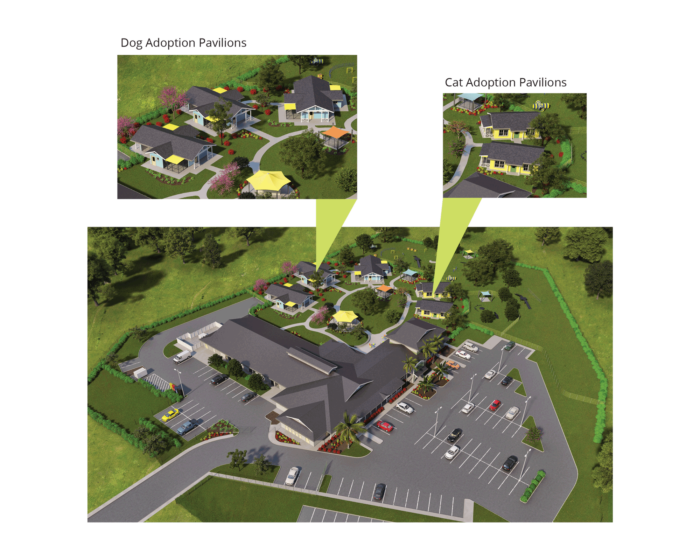 A volunteer check-in area on the first floor will be provided for volunteers to store belongings and check in with staff and other volunteers.
The first floor will also contain offices for staff, computer stations, storage rooms, maintenance rooms, supply rooms, a food preparation room, a grooming room, a laundry room, a reception area and bathrooms. Patios and lanais will also be provided on the ground floor.
South of the main building, the campus will have six adoption pavilions, including three dog pavilions, two cat pavilions, and a small animal pavilion. Two dog acquaintance areas for potential adopters to meet and greet dogs on a one-on-one basis will also be provided.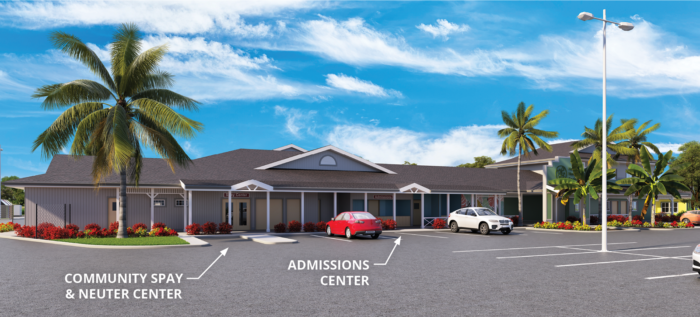 The first floor will also contain the Animal Admissions Center where our animal Lost & Found services will operate. Next to our Admissions Area will be our Animal Fostering Office.
South of the adoption pavilions and acquaintance areas, a spacious community dog park will be provided for use by Hawaiian Humane and the public for dogs to walk, run, play and socialize. Two gazebos will be located on either side of the dog park to provide shade and comfort.